Children's online activities
together with All Saints, Rayne and The Church in Great Notley (LEP)
We have created some online activities for children and their families to access to enable them to continue to develop their faith at home if you are unable to be in church
.This Week's Story - The Potential of Prayer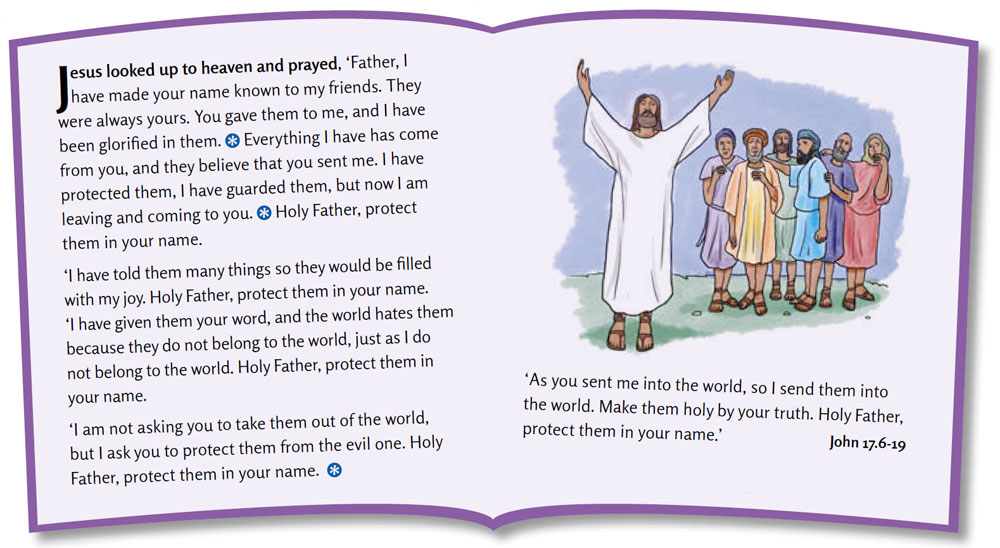 A version of the story for very young children
Encourage the children to join in the actions with you.

Jesus prayed to his Father: (hands together)
please look after my friends. (gesture around the group)
Keep them safe (make a circle with your arms)
even when I leave the world and come to be with you. (point up to heaven)
Stop and share
To glorify means to praise or honour greatly. Invite the children to think about who we glorify today.
Where is Jesus leaving and where is he going to?
Jesus keeps asking for protection for the disciples. Discuss with the group why they need this protection: the evil one means Satan or the devil, a personification of evil.
Talk together and talk to God
Use these questions to discuss the Bible passage and then bring your thoughts together by praying to God.
Talk together
What does it feel like when you don't know how things will turn out?
The disciples were facing a very uncertain future. How do you think they felt about the prayer Jesus prayed for them?
Has anyone ever prayed like that for you?
Activities to choose from suitable for different age groups:
VERY YOUNG CHILDREN
Blow up balloons
Play and wonder about prayer
Ask the children to choose a word: sorry, please or thank you, written on a strip of paper. These are some of the things we say to God when we pray. Help them each to put it inside a balloon and then blow up the balloons. This reminds us that prayer is so much bigger than we imagine, and our simple thoughts/words can do amazing things.
Make a fort
Create a symbol of the prayer of protection
Use cardboard boxes to make a fort as Jesus' prayer is about protection for his friends. Encourage the children to decorate the fort with crosses and other symbols.
FOR CHILDREN
Spiritual styles quiz
Work out what helps you connect with God
You will need: questions and answers (below).

Work through the five questions and answers to explore what each child's spiritual style preference is.
If they answer mostly 'A' they are 'Word'. If they answer mostly 'B' they are 'Emotion', if they answer mostly 'C' they are 'Symbol' and if they answer mostly 'D' they are 'Action'

When coming to church or a session, what do you look forward to the most?
A. Reading the Bible B. Joining in with drama, singing or dance C. Spending time in quiet D. Serving refreshments afterwards


If you read a Bible passage, how would you choose to explore it?
A. Looking carefully at different words/phrases B. Thinking about how difference characters were feeling in the passage C. Exploring some objects which represent the story D. Being inspired by the story to help others


Which sort of activity would you choose if you were able to?
A. Writing your own poem/story/prayer B. Creating artwork C. Looking at religious artefacts D. Planning a charity event


What way of praying do you find works best for you?
A. Writing your own prayer B. Playing some music C. Lighting a candle D. Thinking about a situation in the world and how you can make a difference


What helps you connect with God?
A. Words B. Your feelings C. Silence D. Serving others
Prayer windows
Make a prompt to pray during the week
You will need: A4 pieces of sticky-backed plastic, cut out prayer hands (template), coloured tissue paper cut into small pieces.

Give each child a piece of sticky-backed plastic and remove the backing paper.
Invite them to place the prayer hands in the centre of the sticky sheet.
Next, ask them to stick lots of different coloured pieces of tissue paper around the hands, covering all of the sticky sheet.
Encourage the children to stick their prayer window onto a window at home to remind them to pray.
FOR YOUNG PEOPLE
Relationships in prayer
You will need: printouts of the passage, three different coloured highlighter pens.

Provide each member of the family with a copy of

John 17.6-19

.
Invite the group to highlight everything referring to 'I' or 'me' in one colour, everything referring to 'you' in a second colour and everything referring to 'they' or 'them' in a third colour. Explore the idea that prayer is about developing a relationship with God.
Pray
Prayer chant
You will need: chant words (see below).
Use the call and response chant with your family. Everyone says the 'Pray, pray, pray' refrain after every line with a leader reading all the other lines.
Discuss how Jesus' prayer shows us that we can pray to God in all different circumstances.
Prayer chant
If you're lonely, if you're sad:
Pray, pray, pray.
If you've been good or if you've been bad:
Pray, pray, pray.
If you need help or if you're ok:
Pray, pray, pray.
If it's sunny or a rainy day:
Pray, pray, pray.
If it's a holiday or a weekend:
Pray, pray, pray.
If you've just had a fight with a friend:
Pray, pray, pray.
If you're feel anxious, starting to worry:
Pray, pray, pray.
If you need something done in a hurry:
Pray, pray, pray.
If there's something happening, a special day:
Pray, pray, pray.
If there's nothing going on, it's normal in every way:
Pray, pray, pray.
If you just want to talk to the Lord:
Pray, pray, pray.
Be sure he listens to your every word so:
Pray, pray, pray.
Talk to God: Planning prayer

Plan a prayer room for the different spiritual style preferences

You will need: pens and paper, items for prayer activities.

Split the children into four small groups to plan a prayer activity for each style, or work together on the four styles.

- An activity for the word preference, e.g. cut up words from newspapers and magazines and use to make a prayer.

- An activity for the emotion preference, e.g. use art materials to paint/draw a prayer.

- An activity for the symbol preference, e.g. a prayer walk.

- An activity for the action preference, e.g. sponsored fasting in prayer for a situation and raise money for the cause.

Give the children time to do the activities they've planned.

Building prayers 5 mins 

Build while you pray for God's help in uncertain times

You will need: as many bricks and blocks as possible.

Put the bricks and blocks in the centre of the room. Explain that together you are going to create something that looks like a castle with the selection of bricks and blocks available.
Think about how it is built to protect the people inside facing uncertain times. Briefly talk about Jesus praying for protection for his disciples.
As you build, pray for anything you are uncertain about

Track your prayers

Use a simple tool to help you pray

You will need: copies of the prayer sheet, pens.

Show the group how to complete the prayer tracking sheet – thinking about the day so far and what they want to pray for.
Encourage everyone to complete a sheet and provide each person with a few more to use during the week ahead. If you run out of sheets, they could make their own more customised versions.





We loved having our monthly pyjama prayers for the children last Sunday via Zoom. The children enjoyed using playdoh to help them with what they wanted to pray for. The next one will be on Sunday 13th May where we will be using pebbles to pray with.
resources uses ideas from a number of websites including ROOTS, Together@Home and Sermons4kids:
© ROOTS for Churches Ltd (www.rootsontheweb.com) 2002-2020.
Copyright © 2001 - 2020. Sermon4Kids.
Reproduced with permission.