Children's online activities
together with All Saints, Rayne and The Church in Great Notley (LEP)
For help with their learning and play across the curriculum, check out this Online Resources Pack from Essex.Gov.UK
We have created some online activities for children and their families to access to enable them to continue to develop their faith at home if you are unable to be in church .
Open the Bible at Matthew 21.23-32

This Week's Story: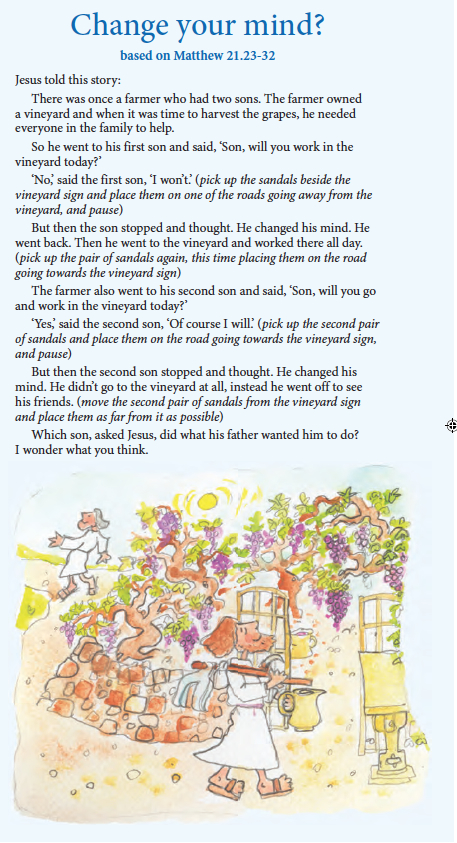 Use questions to help the children think about the story:
· Which son do you think did what his father said?
· Who do you think the father might really be?
· Who do you think the sons might really be?
· Why do you think Jesus told people this story?
Allow the children a chance to express their thoughts without trying to impose a right or wrong answer.
Activities based on this week's reading to choose from:
Obedient hands
Let each child draw round his/her hand on a sheet of wrapping paper. Use different patterns of paper. Cut out the shapes. Paste the hands onto a sheet of paper and add the words 'Help us do the things God wants'.
Ways of seeing
Each child makes a pair of binoculars. You will need the tube from a kitchen towel (cut in half), glue, two paper clips per child, paint or paper for decorating the 'binoculars', string or wool.
Glue the two halves of tube together, side by side. Use the paper clips to hold them in place while they dry. Either paint the tubes, or cover them with bright paper, glued into place. Attach wool or string so that the binoculars can be worn around the child's neck. The binoculars remind us that God sees things differently from us.
Be different
Create a collage. In the middle of a large sheet of paper, write the words 'Be different — be like Jesus'. Give the children a selection of magazines and newspapers so that they can cut out faces to be stuck around the edge of the paper, and words describing Jesus to be stuck in the centre space. Display the collage in your room or the church.
Kaleidoscope
If you're feeling adventurous, make a kaleidoscope together. If you don't want to make one, take it in turns to look through the kaleidoscope from the display. Everything can look very beautiful in the kaleidoscope, but also muddled and confusing. Our lives and our world can seem muddled and confusing, but God sees things much more clearly.
Say and do game
Ask the children to look at you and follow your instructions.
Give and demonstrate instructions such as touch your nose, fold your arms.
When everyone is following your instructions add some confusion by doing something different from what you say. For example, ask them to tap their feet but as you do so put your finger on your nose.
Do this a few times then pause the game. Did your actions confuse the children? Remind them that in the parable the sons' actions and words didn't match up.
Which is more important, to say you will do something or to do it? Play the game again, this time using only actions for the children to follow.
SIMON SAYS:
Play this game as the old SIMON SAYS game of having a leader tell the children to hop, skip, jump, or any other directions and the children will DO what Simon says, but otherwise they should NOT do the command. Explain to the children that Simon is the one who has the authority in this game, just as God is the authority in our life.
MOTHER MAY I:
In this old game, the children will listen to a command but BEFORE obeying, they must say MOTHER MAY I? If they do the command without asking, they are out of the game. Point out that "Mother" is the authority in this game.
AUTHORITY CROWNS:
Give the children supplies to trace and cut out a KINGS CROWN. "GOD'S AUTHORITY" or other words from the lesson can be drawn on the decorated crown, using sequins and glitter as well. The crown is a symbol of one who is in authority such as a king. Remind the children that Jesus is the King of Kings and God has given him ALL authority.
Pray
Everyone: Dear God, make us more like Jesus.
Turning to God
This prayer involves movement. Prepare two cards, one with the words 'towards God' and the other with 'away from God'. Two people hold these up opposite each other, with the children standing in-between. As the words of confession are said, the children face the 'away from God' sign, and then turn 'towards God' as they say the response together.
When we are facing away from you, dear God,
Turn us back towards you.
When we say we love you but don't show it in our actions, dear God,
Turn us back towards you.
When we ignore what you tell us in the Bible, dear God,
Turn us back towards you.
When we forget about you at home or school, dear God,
Turn us back towards you.
(Children stay facing the 'towards God' sign.)
Thank you that you are always there, dear God. Help us to keep facing towards you. Amen.


Here are some links for an activity sheet and a booklet should you wish to use them.
We loved having our own pyjama prayers for the children last Sunday via Zoom. The children enjoyed creating shapes with pipe cleaners to represent their prayers. The next one will be this Sunday 11th October. Please do get in touch for details.
resources uses ideas from a number of websites including ROOTS, Together@Home and Sermon4kids:
© ROOTS for Churches Ltd (www.rootsontheweb.com) 2002-2020.
Copyright © 2001 - 2020. Sermon4Kids.
Reproduced with permission.